Typhoid: Symptoms and Remedies & Diet
Around the world, every year approximately 21 million people are found to be contracting typhoid and the number is ever increasing as the number of people pursuing travel is increasing with time, thus exposing them to typhoid.
Typhoid is actually a result of an infection caused by Salmonella Typhimurium bacteria. The presence of these bacteria can be found most commonly in unhygienic areas. The infection thus spreads by consumption of contaminated food and drinking water. This infection is very common in underdeveloped and lower-income sections of developing countries.
Let us know how to identify and treat typhoid
Symptoms:
A person who is exposed to typhoid bacteria starts showing the symptoms within 20 days of exposure. Two major and most common symptoms of typhoid are:
Fever: Generally high body temperatures are found in typhoid patients, which keep on getting higher up to 104 degrees Fahrenheit.
Rashes: These are not common in every typhoid-affected person but in some patients, reddish or pinkish-colored spots are found on their necks and abdomen.
Other symptoms of typhoid include:
Constipation
Pain in abdomen
Headaches
Weak immunity
Confusion
Diarrhea
But in severe and fatal cases, besides these symptoms also, perforated bowel is found leading to peritonitis, which is an infection occurring in abdominal lining tissues.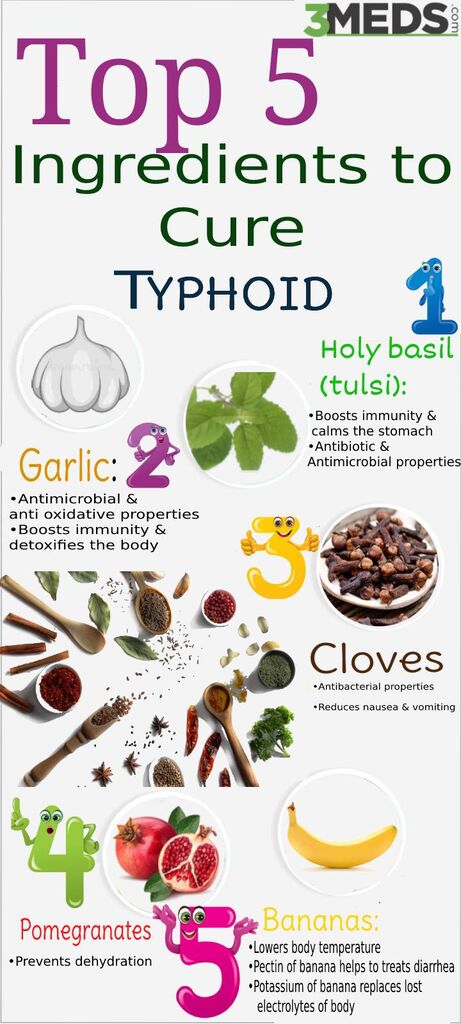 Remedies:
Medication: Proper antibiotic dosage is considered the best and most effective way to treat typhoid infection. The most commonly prescribed medicines are Ciprofloxacin and Ceftriaxone with precautions that Ciprofloxacin must not be taken by pregnant and lactating females. These medicines are easily available Online pharmacy
Surgery: If the infection has already become fatal and the bowel is perforated then only surgery is considered to be an option for treatment.
Rehydration: Drink plenty of water to stay hydrated as typhoid also leads to dehydration.
Foods to avoid: It is advisable to avoid foods that are rich in fiber content and those that may cause bloating like cabbage and cauliflower. Alongside, packed and processed food, fried and spicy foods should not be consumed. Even consumption of ghee, butter, sweet and creamy dishes must not be taken as all these may lead to worsening of the typhoid situation.
Proper diet: Intake of proper diet helps to replace the lost minerals and electrolytes of the body and boosts the immune system to fight against the bacteria due to the various anti-bacterial, microbial, and oxidative properties.
Outlook
The infection can be treated with a proper cyclic dosage of antibiotics and usually gets cured but if remains untreated may be fatal. It is quite a fatal infection whose bacterium is found only in human stool, urine, blood. It enters the body by mouth via edibles and drinks stays in the intestine for up to 3 weeks and then spreads via the intestinal wall to the bloodstream and makes a home in the host cells thus weakening the immune system of the patient. Thus, a proper diet must be followed with proper antibiotic dosage to treat the condition soonest.